Retail & Track Vehicle Saying/Slogan Designs
We can customize any saying to your racing type and vehicle style!
Most of these designs are in stock for immediate shipment without name drop.
Addicted to Dirt
Long Left Chest
Addicted to Dirt Series
s
Vehicle/Slogan Designs
All designs in this section come with this Long Left Chest and one of the Full Back Designs below.





Dirt Is for Racing
Late Model
Dirt Is for Racing
Sprint Car
Dirt Everywhere Series
Corresponding Left Chest and Full Back Late Model and Sprint Car designs.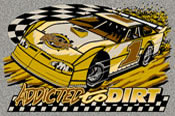 Dirt Everywhere Left Chest
Late Model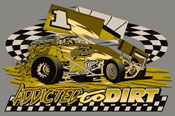 Dirt Everywhere Left Chest
Sprint Car
Dirt Everywhere Back Late Model
Dirt Everywhere Back Sprint Car
Pedal to the Metal Front Late Model
Pedal to the Metal Series
Late Model or Sprint Car Full Front and Small Behind Neck Logo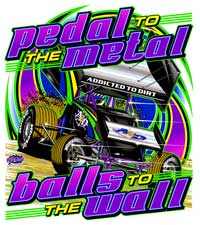 Pedal to the Metal Front Sprint Car
Pedal to the Metal Back Neck
Sunset Vehicle Designs
Full Front Design on Black Shirt